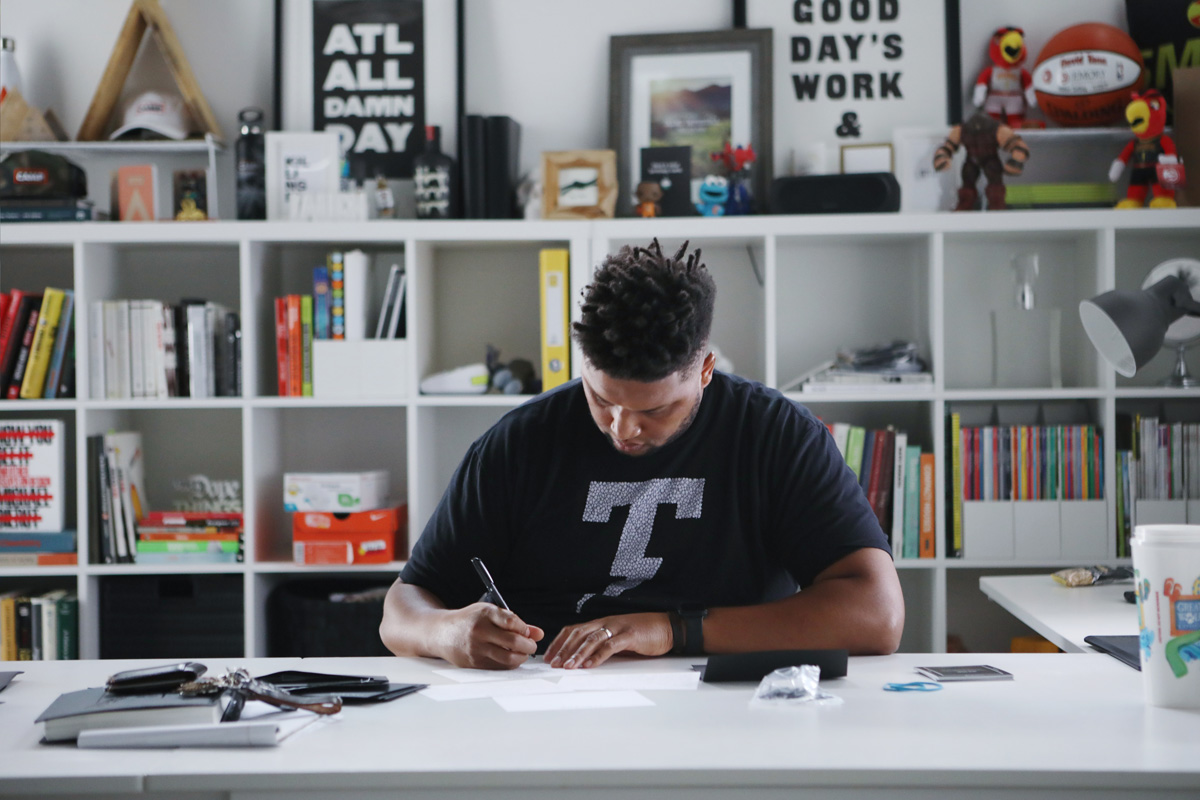 THE TEAM
TEAM TANTRUM
Just like brands, each person has something special going for them. And we're lucky they decided to bring their talents our way.
DAVID TANN
Founder & Creative Director
In just over 15 years, David has launched brands for Abercrombie & Fitch, designed record-breaking holiday campaigns for Bath & Body Works, managed packaging for Kohl's department store, revitalized the OshKosh B'gosh clothing brand, directed e-commerce for Carter's, and unveiled the new identity for his hometown NBA basketball team, the Atlanta Hawks. In 2018, he branched out on his own to start Tantrum.
STACEY SMITH
Sr. Art Director
Stacey Smith joined Tantrum Agency in 2018 and serves as Senior Art Director. Stacey has more than 15 years of experience in the design industry and her background includes experience with branding, package design, logo development, photography and project management. Prior to this role, she worked at Kohl's where she helped create and foster products for brands such as Simply Vera: Vera Wang, Food Network, and Disney.
ANDRAMADA BRITTIAN
Video Prouction
Andramada Brittian the founder of Andramada Films, a video production company specializing in creating high definition videos tailored to businesses, organizations, and individuals needs. She is a cinematographer and multimedia producer with a strong history of working in the motion pictures and the film industry. Prior to starting Andramada Films, she was a video content producer for the Atlanta Hawks and Phillips Arena.
JIM KENNELLY
Sr. Art Director
Jim Kennelly is a designer, illustrator and branding expert living and working in Milwaukee, Wisconsin. Prior to starting his own studio in 2018 he served as Sr. Art Director of brand creative at Kohl's Department Store. From logo and asset development, packaging, brand photography, visual merchandising, environmental design and social media curation, Jim has helped build and evolve countless brands, including his own.
Brittany Hege
Copywriter
Brittany Hege (just call her Brit) is a freelance writer from ATL. She's crafted ads for the big ones, like The Home Depot, Coke, and Microsoft -- but her soft spot's in branding. For her, nothing beats creating a tone-of-voice from scratch, seeing it come to life on websites and social. When not at her desk (couch, really), she's watching Arrested Development, studying those perfect one-liners.
BRAND VALUES
WHAT WE BELIEVE.
These are the principles that we build brands by.
WE'RE COLLABORATIVE.
We don't know everything. Who does? But we do know the best branding comes from having an open conversation. So, we're never talking at you — it's always with you. It's your brand, so you should definitely have a say.
WE'RE LISTENERS.
We do a lot of listening. In those moments of quiet, your brand starts to come alive. Once we get a feel for it, we're able to create memorable brand experiences. Listening is truly a lost art form, and we're bringing it back.
WE'RE THOUGHTFUL.
We're all about discovering a brand's truth, then bringing it to life. That's our sweet spot. From red-hot sizzle reels to eye-catching logos, we obsess over the purest details that will get people talking, clicking, buying.
WE'RE HUMBLE.
Agencies (especially the big ones) are known for having big egos to match. But we're not like that — and we never will be. We're incredibly grateful to be in this biz, doing what we love. And we know there's always room to learn more.
WE'RE STRAIGHT UP.
Some agencies just want to make a quick buck. They say "Yes" to everything, to keep it moving. Not us. We're honest with our clients because we want the best for them. If we think an idea's off, we'll let you know — respectfully.
WE'RE DO-ERS.
When we say we're going to do something, we do it — and do it well. After all, we seriously enjoy branding — the whole process of it — from exploration to creation. So, there's an excitement there, especially when it's a new client or space.
TESTIMONIALS
WHAT OTHERS ARE SAYING.